---
Happy Birthday, Grandma!!
Born in Brock, Nebraska
AUGUST 1, 1896
Died in Bloomington, Minnesota
JULY 18, 1994
---
Early Family History
Juanita Lucile Campbell was born August 1, 1896 in Brock, Nebraska.

She is the only child of Rodolphey (Dolph) Martin Campbell, store owner, and Cora K. Adams Campbell, school teacher.

Juanita had many cousins to grow up with in Brock. Her father's four sisters had nine children among them. Her mother was sixth of eight and her siblings had 19 children. Juanita's Grandfather Campbell founded Brock's first store, actually the first general store west of the Missouri River, on the Nemaha River.

The Adams family was travelling to the West from Ashland County, Ohio, by wagon with all their possesions. When Grandmother Adams was widowed in Nemaha County, she remained in Brock to rear her eight children. The oxen (named Tom & Jerry, Buck & Berry, Rock & Rolly, Duke & Dime) became a farming team.
---
Juanita's Education
Junaita attended elementary school in Brock, and secondary schools in Peru and Lincoln. She entered the University of Nebraska in 1913, graduating Phi Beta Kappa in 1916. She was also a member of Alpha Delta Pi.

She taught one year in North Loop, Nebraska, and returned to do graduate work at the University. While studying for a Masters Degree she was a graduate assistant in the Psychology Department.
---
Juanita marries and starts a family
In 1921, Juanita married Albert Samuel Johnston after he graduated from the University of Nebraska Law College. Her college attendance and teaching were curtailed with the birth of their first child, Albert Martin, December 28, 1923. Their second child, James Bishop, was born March 25, 1926, and then a daughter, Elizabeth (Beth) Lucille, was born July 18, 1929.

The family lived on 20th Street when Al and James were born. They moved, in 1927, after years of planning and designing, to the home at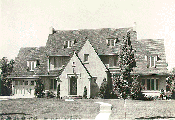 3024 Georgian Court. The house was built using three tons of marble, slate and Indiana limestone purchased from stone remaining after the construction on the State Capitol building! Their home incorporated many advanced architectural ideas and was a delight to live in. The house had 7 bedrooms and 5 bathrooms (3 full, 2 half) and a two car garage.
In 1943, the family moved to 1971 D Street (the original Fitzgerald home on Emerald Hill, a development facing the Plymouth Congegational Church) where Juanita lived until 1986.
On February 1, 1986, Juanita moved to her condominum home in Bloomington, Minnesota. Daughter Beth and her five children and their families then all lived in Minnesota near Grandma. The immediate descendants of Albert and Juanita included three children, 10 grandchildren, and 10 great-grandchildren.
---
Civic and Social Activities
Juanita has always been active in community affairs and organizations. She belonged to Lincoln Women's Club, Lincoln Garden Club, University Alumni, Opti-Mrs., Chautauqua, Hall in the Grove, YWCA, Daughters of the Nile, Eastern Star, Desserts Club, Nebraska Historical Society, Hillcrest Country Club, Cub Scouts, PTA, and WCTU. She always provided a dedicated volunteer attendance and has had many leadership responsiblities.
---
This page is dedicated to you on your 99th birthday, August 1, 1995
---
That's all for now from your grandson...

Send comments to: Laurel, MD / david.johnston@his.com
---
This page has been accessed times since January 10, 1996