My cousin, Sharon Garbe's artwork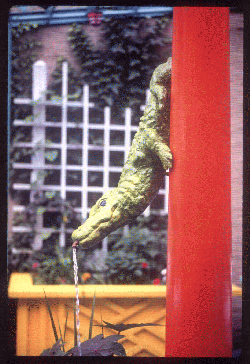 Sharon received her M.F.A. from Hunter College in NYC and now works and lives in the "Village".
---
Recent Exhibitions
Game Keepers Dia Foundation, NYC
Playing House Nathalie Karg Gallery, NYC
Lost & Found Tennisport Arts, Long Island
Once Removed New Langton Arts, San Franciso
Encounters with Diversity P.S. 1 Museum, Long Island
Value Dooley Le Cappelaine Gallery, NYC
90% Space 90 degrees Dooley Le Cappelaine Gallery, NYC
---
Grants, Awards
1991 National Studio Residency, P.S. 1/The Clocktower, NYC
1990 Pollock-Krasner Foundation Grant
1989 Graf Travel Grant to Spain
1987 Egelson Scholarship, Hunter College
---
Browse here for more art on the Internet:
Interested in more Art and Art Museums on the Net?
---

Last updated by djohnsto@his.com on 26 December 1995
---
This page has been accessed times since January 10, 1996